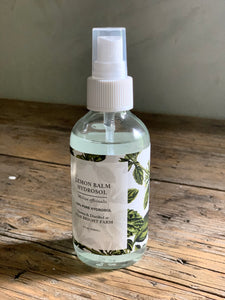 lemon balm hydrosol
Regular price
Sale price
$19.00
---
100% pure floral water (hydrosol) of lemon balm distilled at Starbright Farm. Can be ingested in teas or applied directly to the body. 4 fl. oz.     
profile: lemon | floral | earthy | brightening 
Uses: Delicious in food or drinks.  Cleansing facial toner for sensitive, dry or oily skin prone to acne.  Hold bottle a foot away from face and spray generously for full coverage around face and neck.  Great as an aftershave for both men and women. For best results, apply right after shaving or washing, before and after moisturizing; reapply 2-3 times daily for best results. You can diffuse lemon balm for its fresh scent to brighten a room, and use as a water substitute to activate clay masks.
NOTE FROM LAUREN: I love love love my lemon balm hydrosol and spray it on my face whenever I think about it.  ( I just MIGHT be addicted to it.) I keep it by my bedside and spray before bed and first thing when I wake up. My kids love it too and love getting a quick spray when they're all hot and sweaty from playing.  It's delicious in food and I recently used it on a roasted garlic cauliflower dish (see last images) and it was heaven!! We love it sprayed in our ice water for a fresh lemony flavor.  
About Hydrosol: Hydrosols are pure floral waters from steam distilled flowering herbs, transforming the botanical resilience of plants into liquid form. The final product is lightly saturated with beneficial plant compounds and a naturally light fragrance. The result is a lightly fragrant distillate with a slight verdant nuttiness, which carries the sensory and chemical properties of the plant distilled. Hydrosols are slightly acidic, with a Ph. that ranges from 4.8-5.9, depending on your botanical material. The final product is a pure, plant derived distillate, which has light fragrance and chemical activity with a wide range of traditional uses. We like to use our hydrosols as a gentle skin toner to cleanse and help balance skin pH.
Our skin has a naturally acidic pH, creating an "acid mantle" that regulates healthy production of sweat and fatty acids. Production of these components creates a protective veil, helping your skin fight of unwanted microbes and surface contaminants. Well balanced pH keep skin alive and protecting itself. Hydrosols facilitate this organic process, keeping skin breathing as it should. It is a solution provided by nature's chemistry, coaxed along by the farmers' hands. 
4 fl oz.